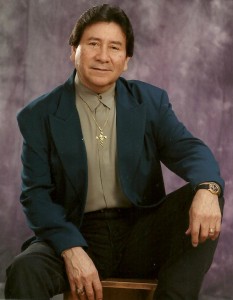 A highly regarded songwriter, Hector Escamilla has received coveted BMI Awards as well as induction into the Tejano Music Hall of Fame. His collection of hits includes songs such as the renowned "Un Sentimiento", the #1 Tejano chart songs, "Tus Modos" and "Si Tu Regresas", and BMI award-winners "Perdi Un Amor" and "Cariñito de Mi Vida".
Hector Escamilla is also the drummer and manager of Grupo Aguila, a band which consists of his brothers, and has exclusively recorded all of his songs with such record labels as Sony Discos, EMI Latin, and Tejas Records. He has also written multiple hits for top Tejano recording artists such as Ram Herrera, Jay Perez, Shelly Lares, La Fiebre, and David Marez.
Although songwriting has always been prevalent in Hector Escamilla's music career, it was the upsurge of the Tejano music scene in the 1990's that staged his creative talents as he became one of the most prolific songwriters in South Texas.
Click here to read the full Biography……