Hector Escamilla shares his manuscripts and describes the inspirations behind his music and lyrics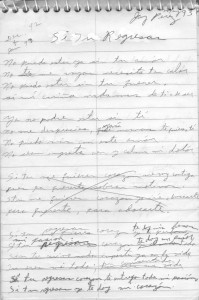 I wrote this song under much pressure. Jay Perez was in the studio recording the "Te Llevo En Mi" album. His producer called me at night saying that they needed one more song. He asked me if I could write something for him. I asked, "When do you need it?". He responded, "How about tomorrow morning?". I got up at six o'clock in the morning the next day. I wrote the song in 30 minutes, drove 2 hours to San Antonio and delivered it to the studio. It was a #1 Tejano Chart song.



The inspiration for this song was the expression, "l'otro día". People say "l'otro día" this; "l'otro día" that. Suddenly the concept came to me about a friend confiding in me and saying, "El otro día perdí un amor."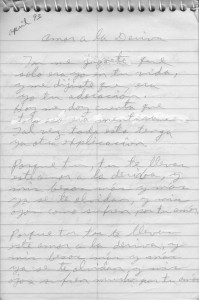 The inspiration for this song came from the phrase "a la deriva", a phrase that the Mexican poet Octavio Paz used very frequently. It means "adrift" or "by the wayside". It occurred to me that love could go by the wayside without one even knowing why. I did quite a bit of research and even consulted a PHD friend of mine, Alfonso Rodriguez.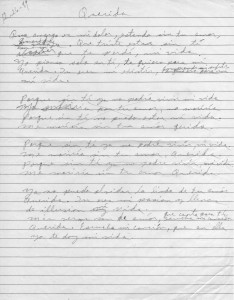 The idea for this song came to me when I remembered how one of my college professors referred to his wife as "Querida", which means beloved; however, Tejanos think that la quierida is the mistress.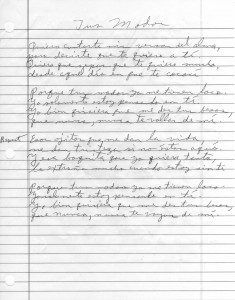 I was inspired to write this song when I was thinking about how a man falls in love with a woman. Sometimes we don't know how, but we want to find an explanation – her eyes, her lips, etc. Sometimes it is just her mannerisms, her ways; Tus Modos.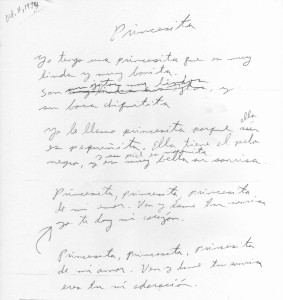 This song was written for my daughter. When she was little I used to call her "little princess". I presented her the song on her 12th birthday, and a few months later the song was recorded by Grupo Aguila under the Sony Discos label.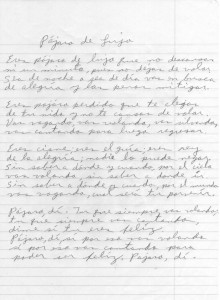 This song was 2 years in the making. I have always had a great admiration for hard-working people, those who struggle in life in order to have a better life in the future – those who never lose hope. To me they are pajaros de lujo (beautiful birds).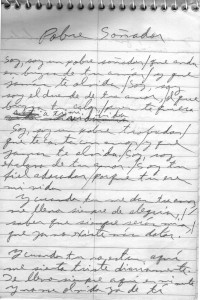 I was inspired to write this song while thinking about the troubadour (trouvére) in France that I had read about. He is a type of singer who composes his own songs and sings them to the public with a type of mandolin.